I have just recently received a number of commercially caught swordfish heads which will be turned into beautiful skull mounts.
The swordfish heads have been cut off behind the gill plates and retain the amazing structures below the lower jawbone.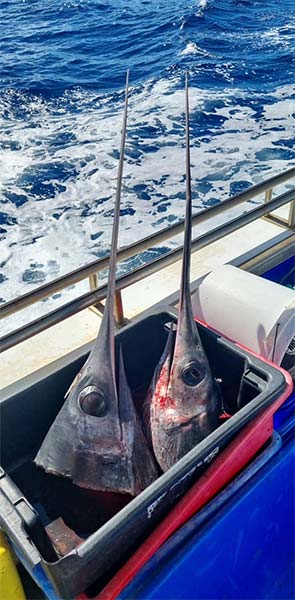 Because of the large amount of oil in both the meat and the skeleton of the swordfish, these skulls usually take between 3-5 months to completely de-grease. They go through a number of baths which gradually remove the oil from the skull. Once all the oil has been completely removed, the skulls and sword is then soaked in a whitening solution which will not only whiten but also disinfect the skull.
The eyes, which are very large and pronounced in these fish, are removed during the dissection and cleaning of the skull, and are then cleaned separately from the skull. This needs to be done, as the eyes are quite delicate and in fact are made up of two halves.
During the whitening process, the swords lose their colour. Once removed from the solution, the skull is dried over a period of 4-6 weeks.
Once completely dried, the skull is examined. Any holes or cracks are filled in with a colour matched epoxy putty. The sword is sanded down to achieve a beautiful glassy look which will then be coated with a special epoxy paint that is non yellowing.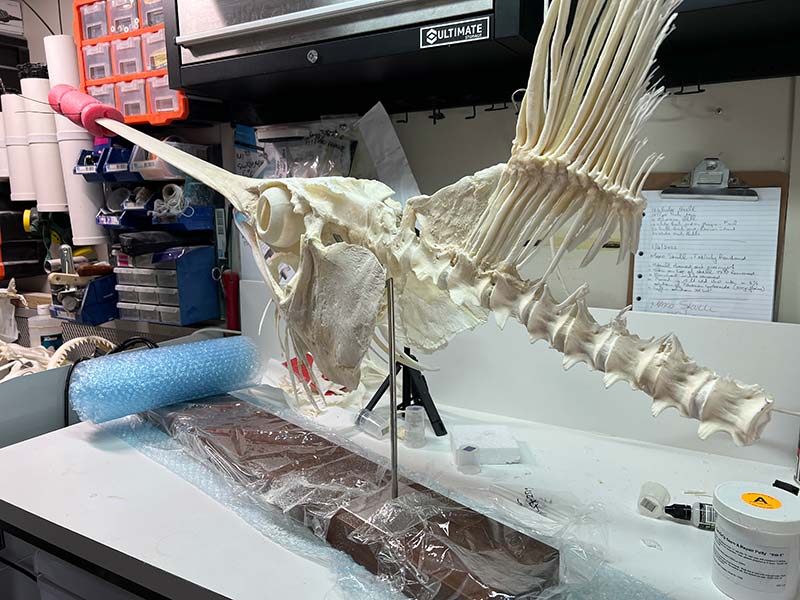 The price of these skulls will vary according to the length of the skull (measured from the tip of the sword to the base of the gill plate). However, as an indication, a 1 metre long skull will be around AUD$2000 plus cost of postage and handling.
The skulls can also be ordered with a stainless steel stand and mounted on a beautiful Grey Gum base, which can be coloured to whatever colour the client wants.
Would you like to find more out about our Swordfish skulls? Get in touch with Simon on +61 477 071 000 or leave an enquiry via the form below.